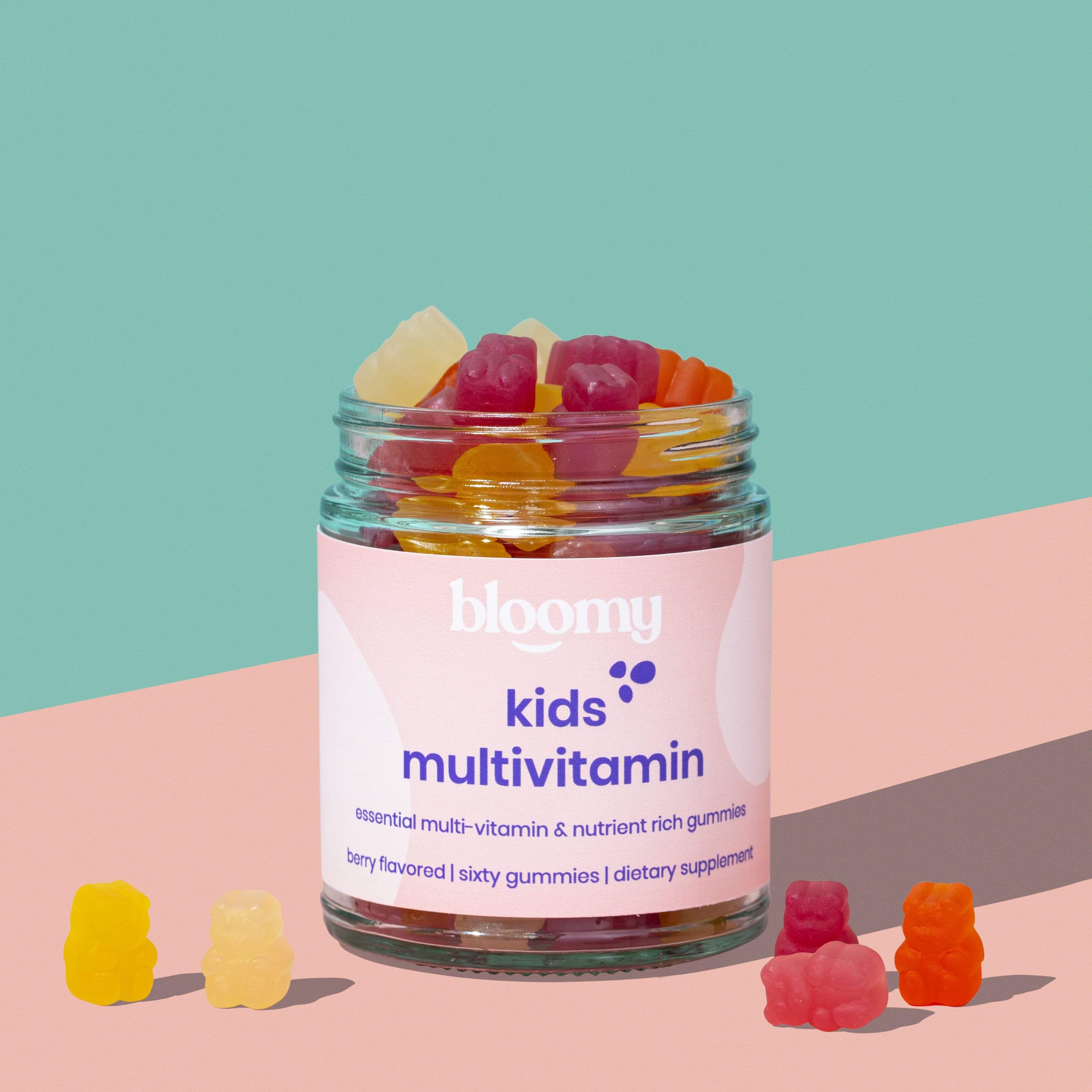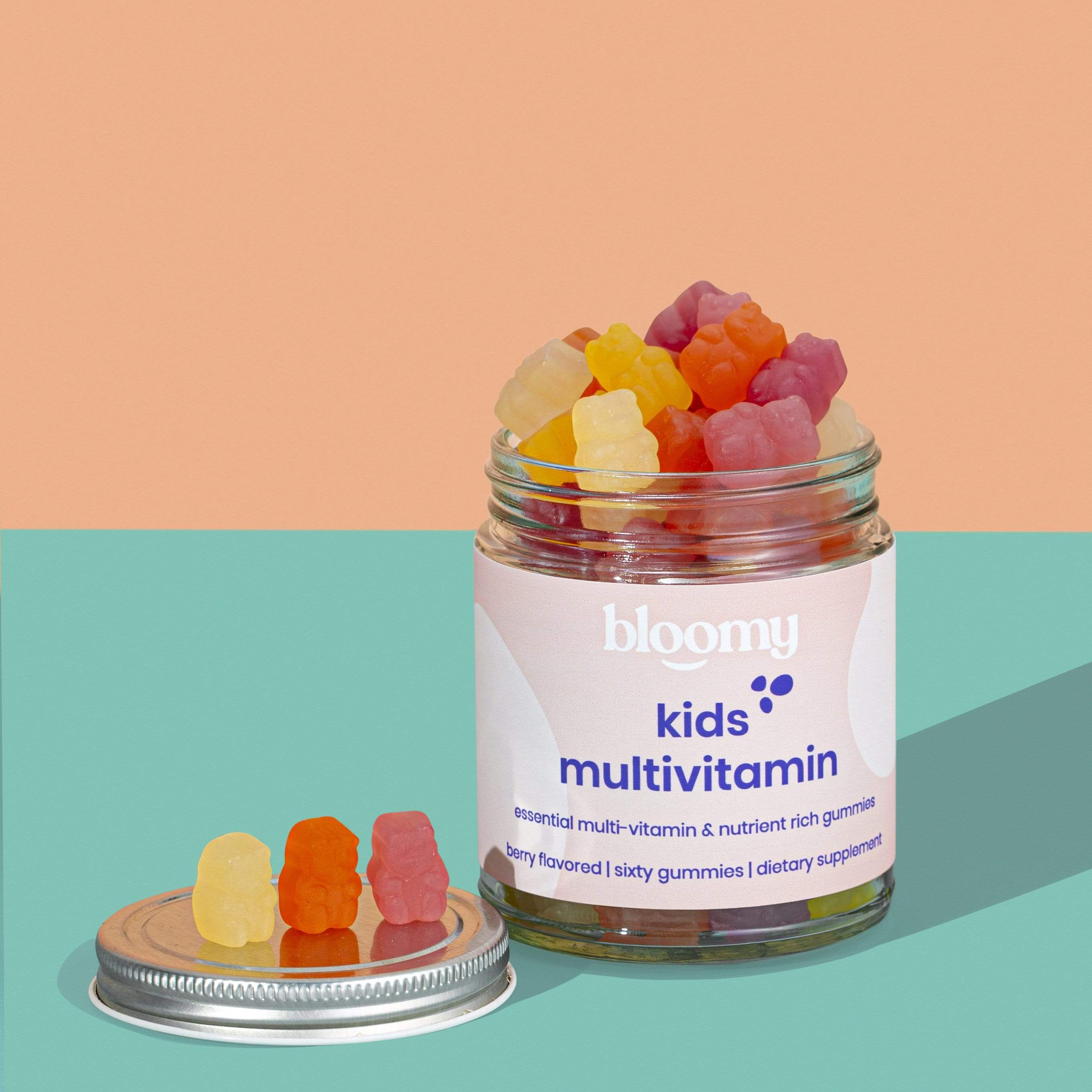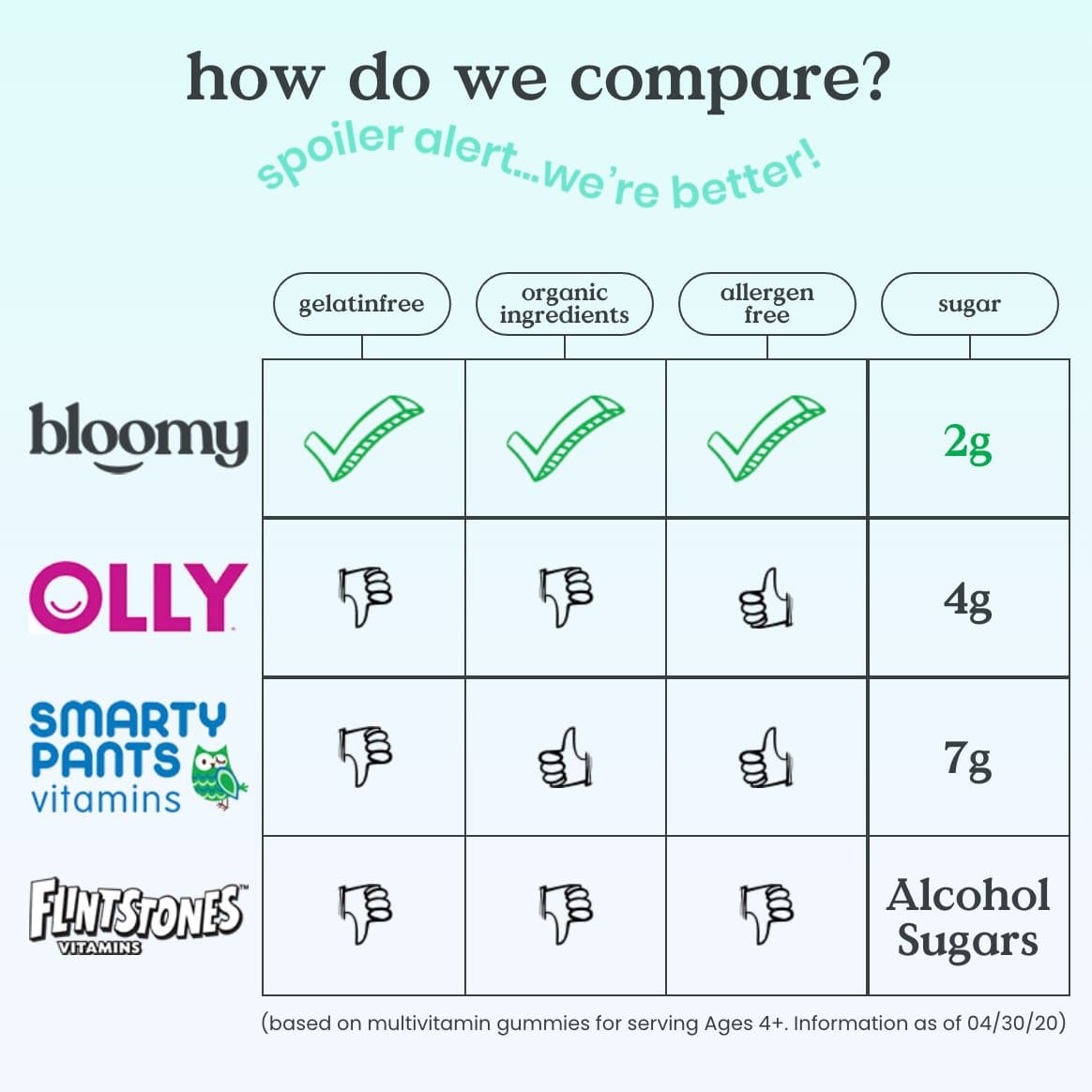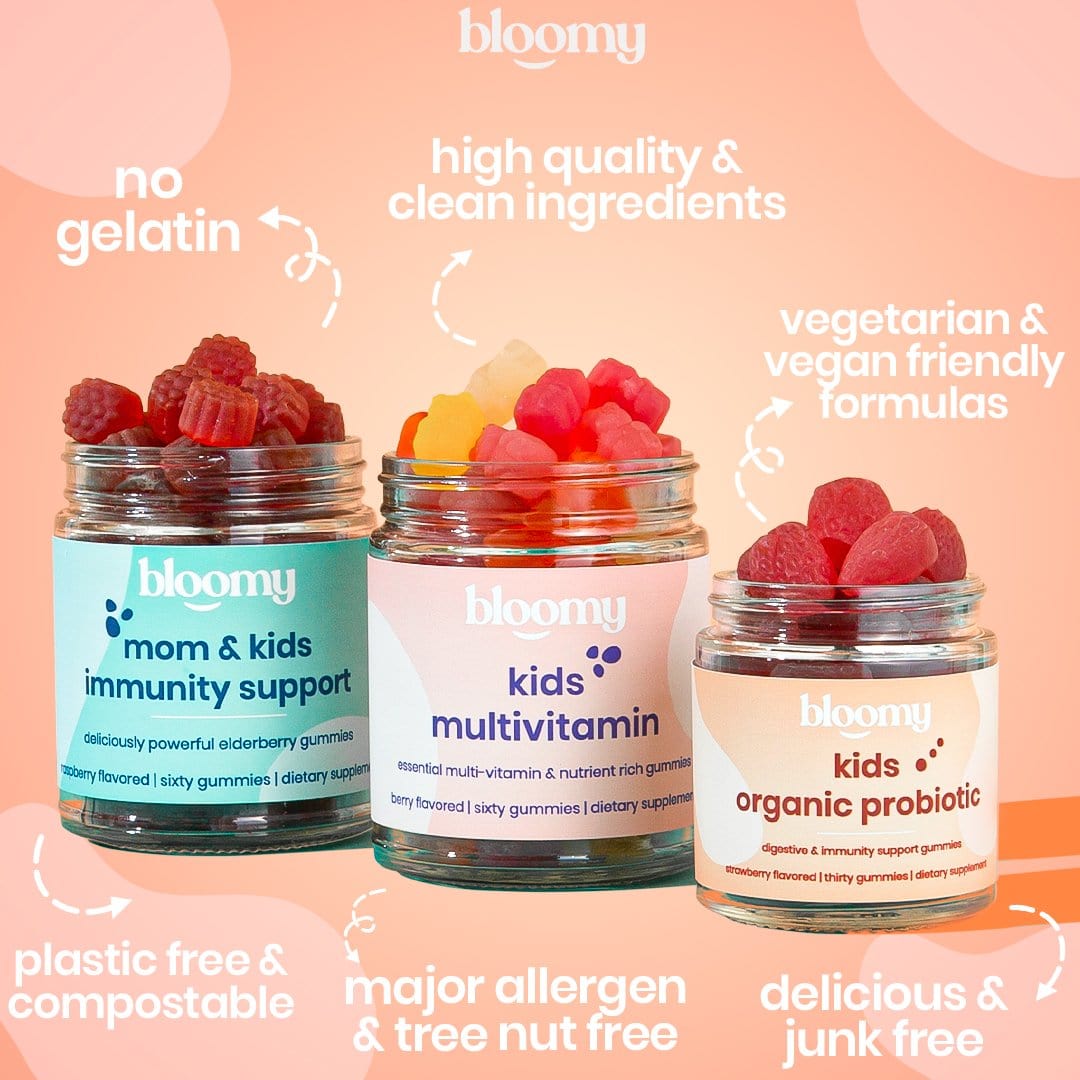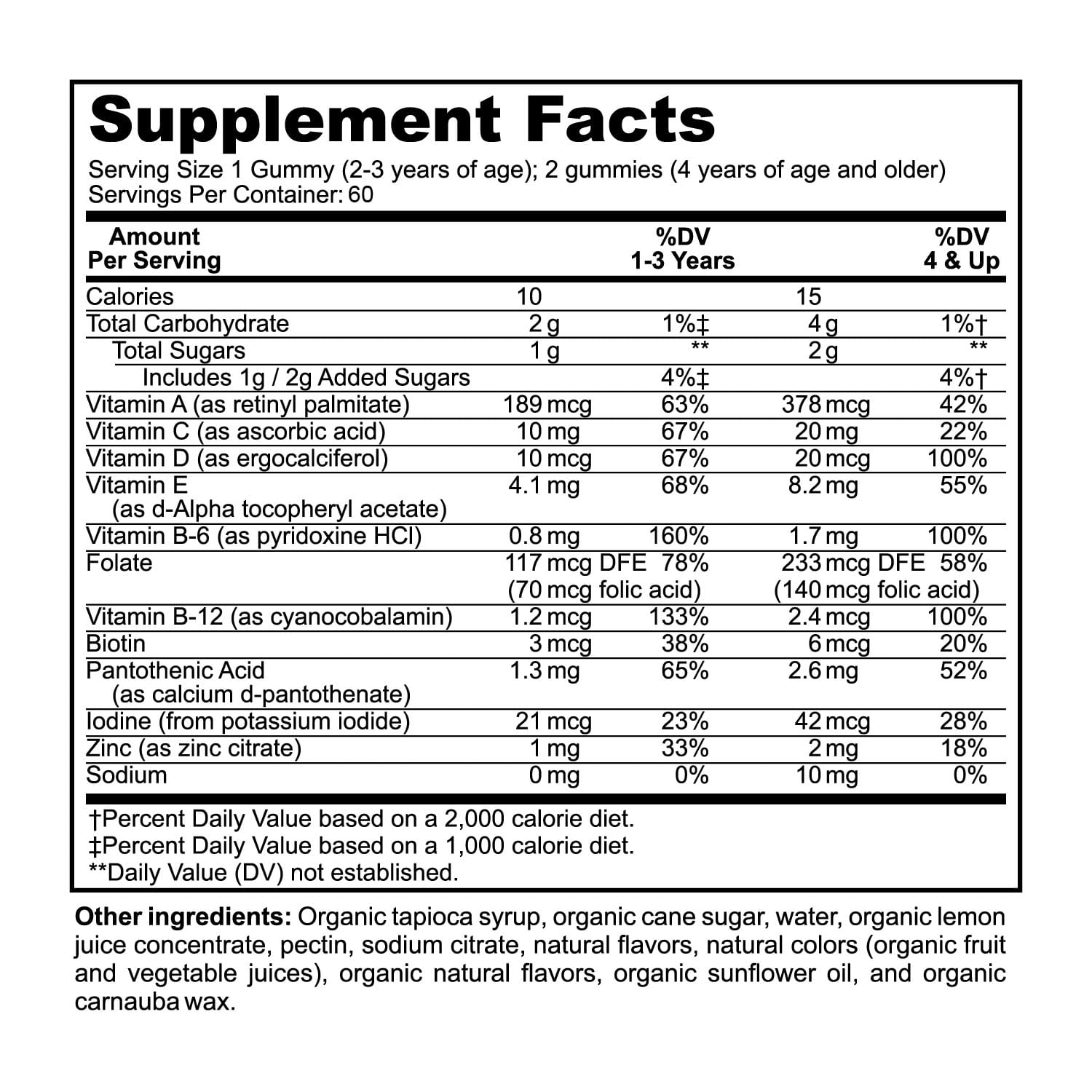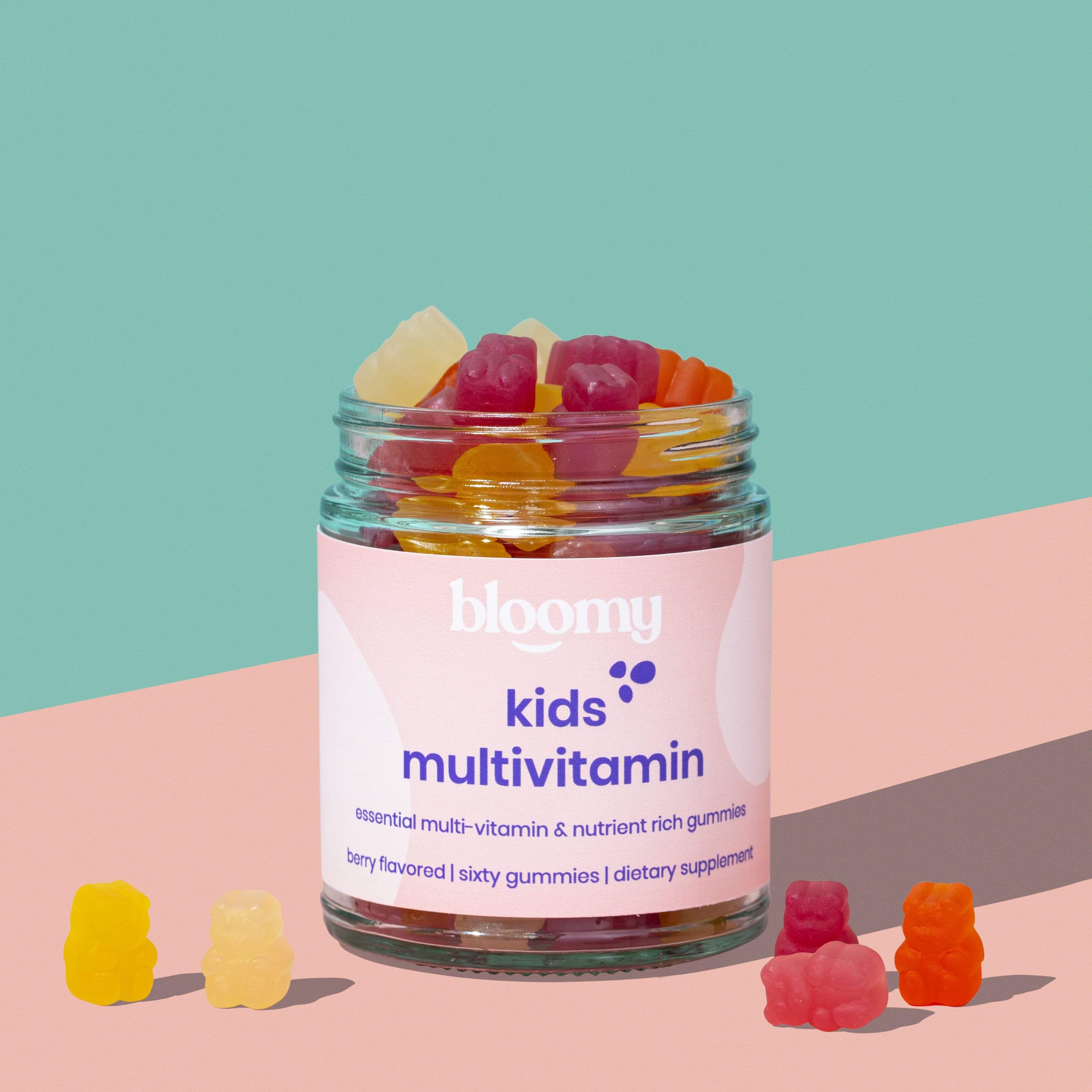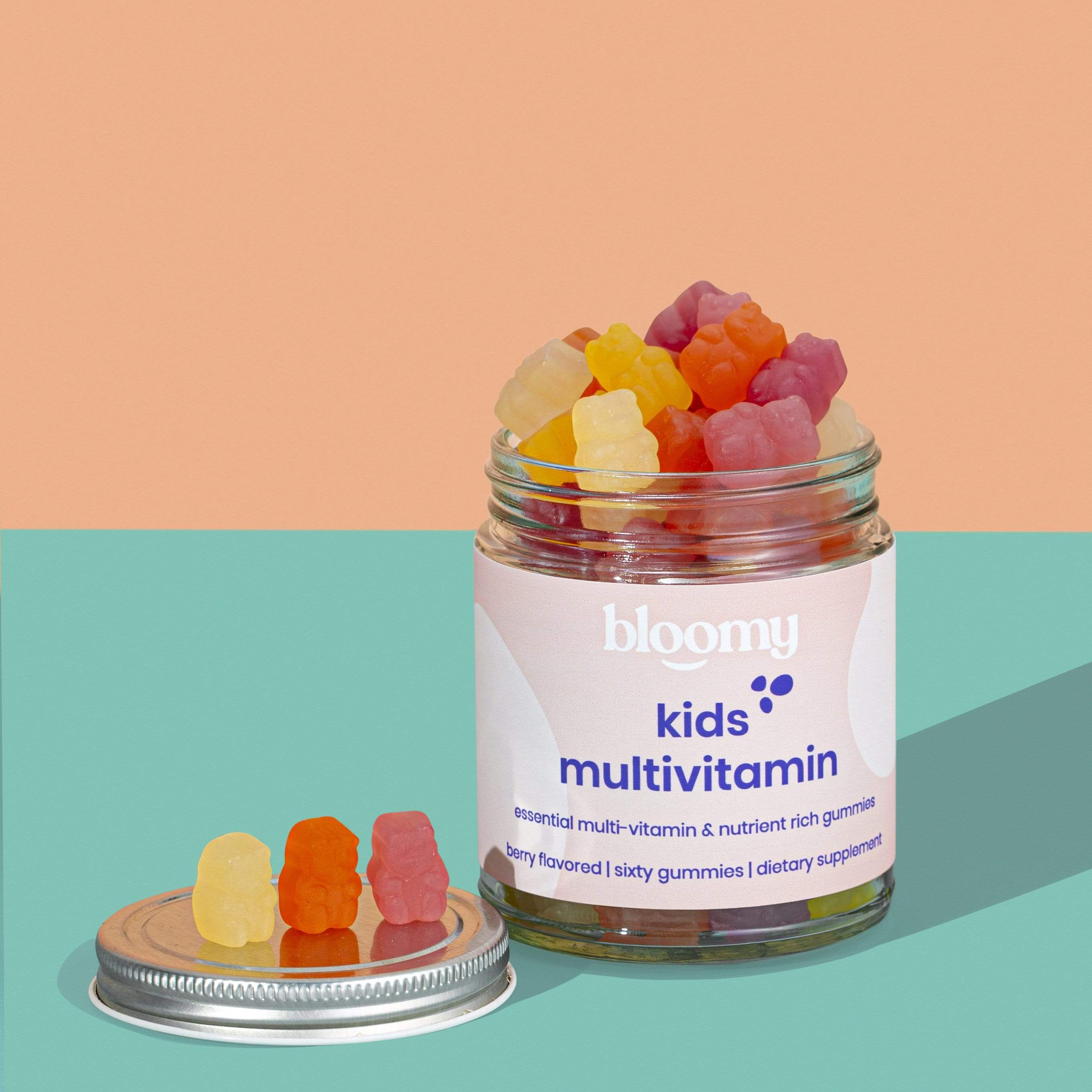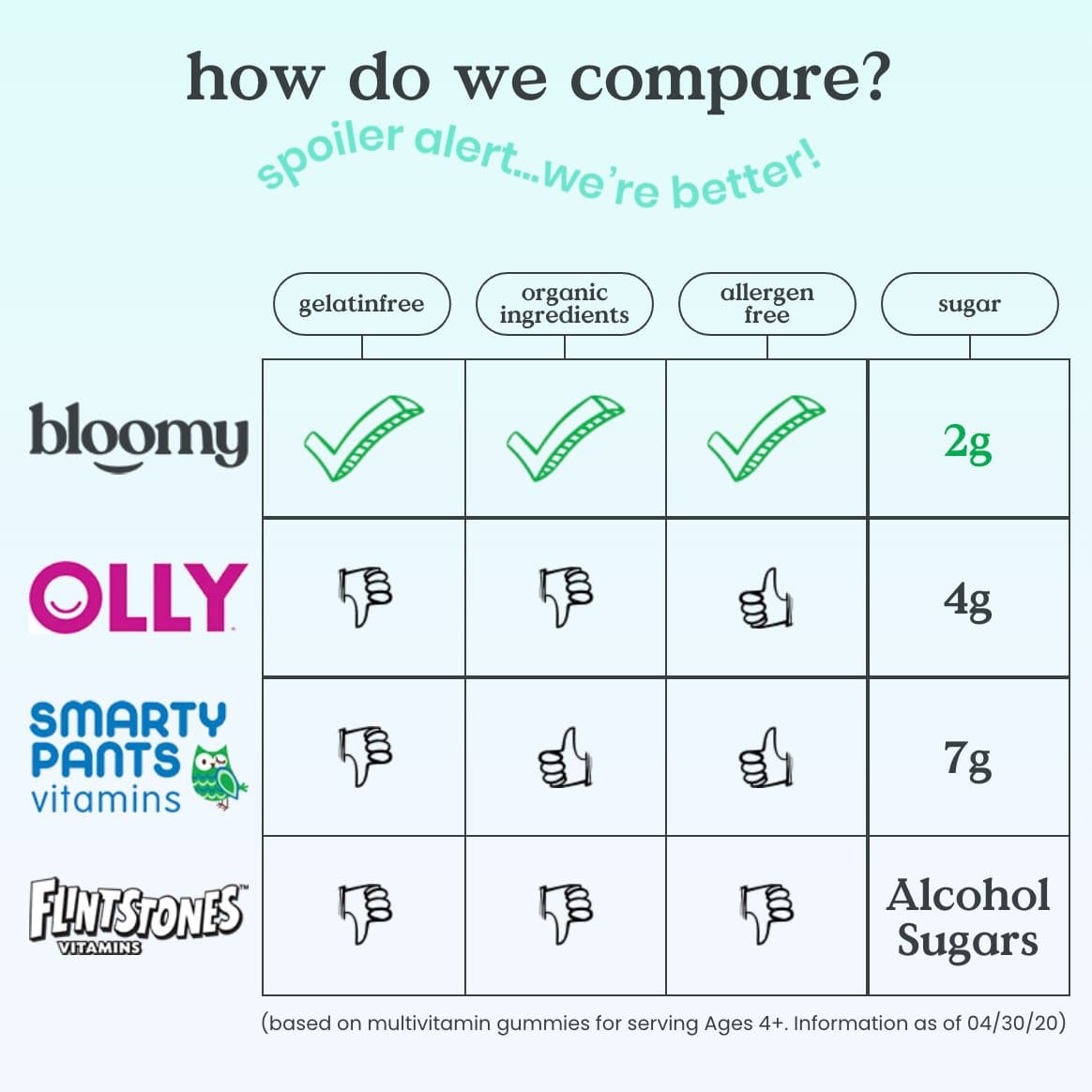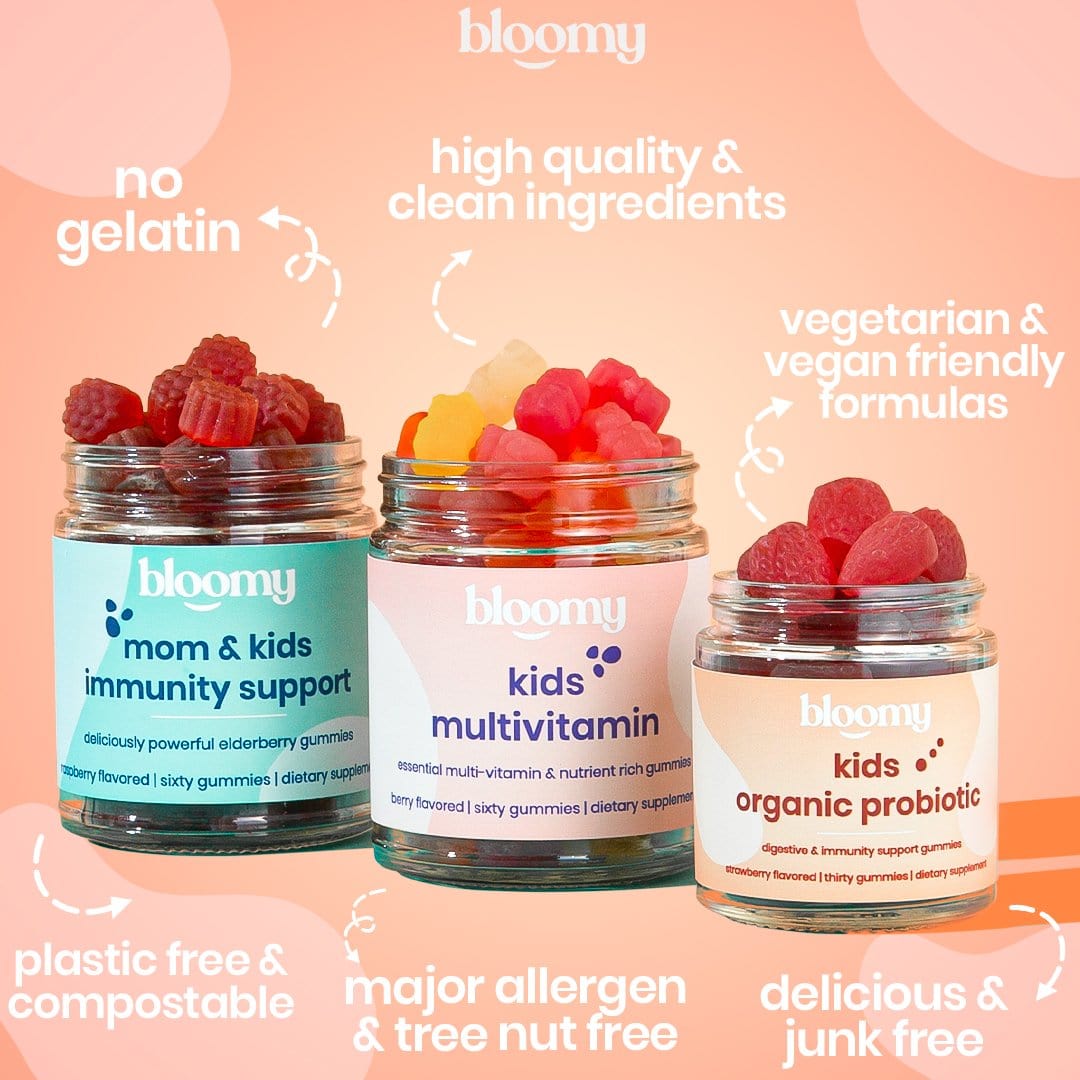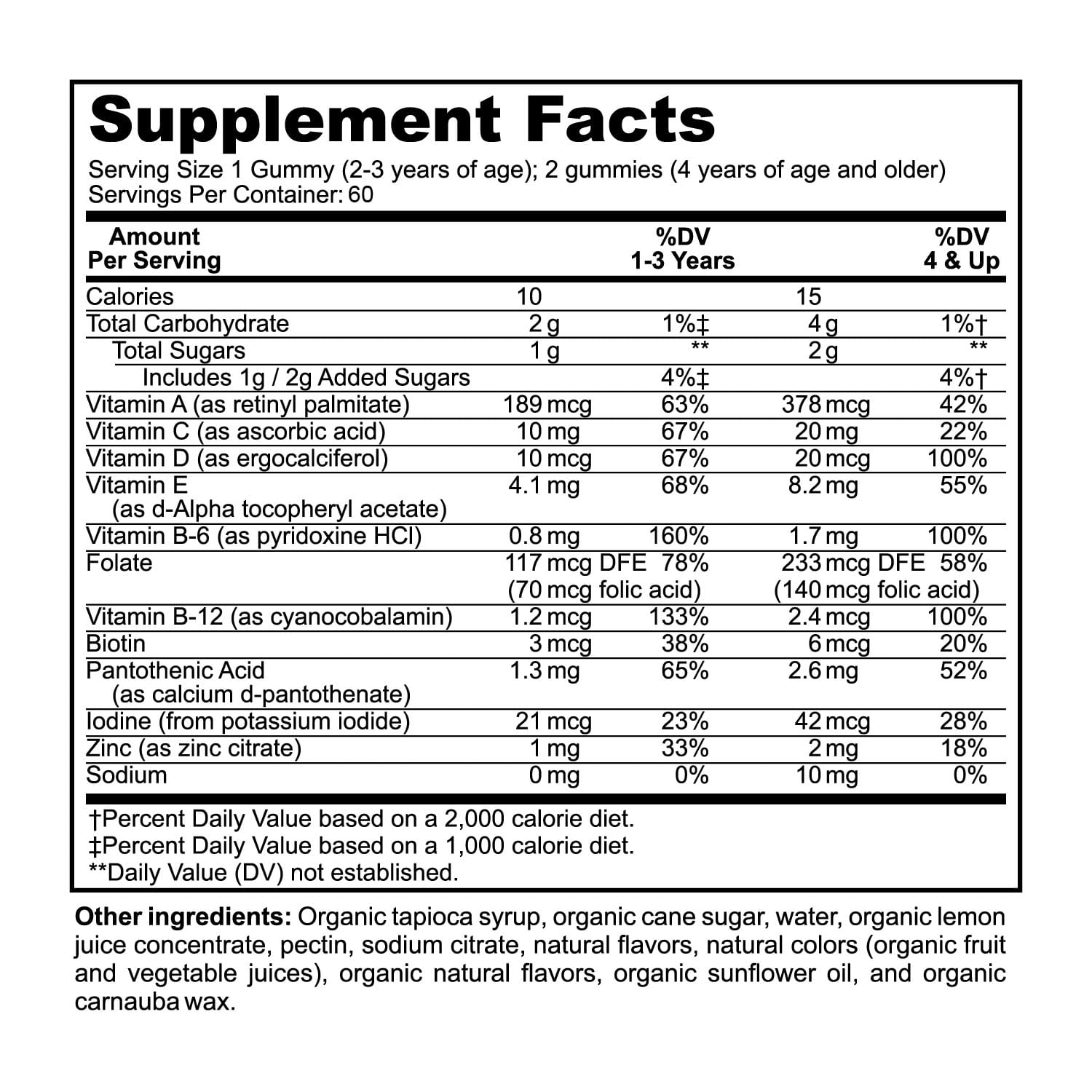 Kids Essential Multivitamins
Essential daily multivitamin gummies made with clean, vegetarian-friendly ingredients. View our certified lab testing here!
Supports a thriving childhood with nutrient rich vitamins & minerals

Pediatrician recommended

 vitamins for children's daily needs
Can help mood, energy and focus
Tree nut, gluten, gelatin, and allergen free

No artificial colors or preservatives
30 day no-hassle money back guarantee!
ingredients that 
make you bloom
Essential vitamins and minerals your bloomy needs to support a healthy life, a healthy heart and optimal energy levels. Start your kids off with the healthy habit forming vitamins they need that you can trust.
Vitamin A
supports healthy eyes and a strong immunity system.

Vitamin C
a superstar vitamin that supports your heart, blood vessels, skin, immunity, and more.

Vitamin D
an essential support for strong bones and healthy teeth.

Vitamin E
an excellent antioxidant that supports cells and skin.

Vitamin B-6
supports brain function and mood improvement.

Vitamin B-12
promotes brain health, energy and improved memory

Folate
promotes healthy cell growth and function.

Biotin
supports health of hair, nails, and blood sugar levels.

Zinc
strengthens immunity system and cell function.
how do we compare?
gelatinfree
organic ingredients
allergen free
sugar
(based on multivitamin gummies for serving Ages 4+. Information as of 04/30/20)
quality that
can be traced
At our core, we knew our partners had to meet our meticulous standards of quality, product efficacy and transparency. All suppliers hold the golden standards of supplement certification, from raw materials to our final products.
Made
In USA

No Added
Preservatives

Soy &
Dairy free

NSF Certified
Facility

FDA Registered
Facility

GMP Certified
Facility
quality that
can be traced
At our core, we knew our partners had to meet our meticulous standards of quality, product efficacy and transparency. All suppliers hold the golden standards of supplement certification, from raw materials to our final products.
15Calories
per serving

Amount
per gummy
Daily
Value (%)
Total Carbohydrate
4 g
3%
Total Sugars
3 g
12%
Vitamin A
630 mcg
210%
Vitamin C
20 mg
133%
Vitamin D
10 mcg
67%
Vitamin E
7.4 mg
123%
Vitamin B-6
2 mg
400%
Folate
435 mcg
289%
Vitamin B-12
6 mcg
667%
Biotin
60 mcg
750%
Pantothenic Acid
5.2 mg
260%
Choline
40 mcg
1%
Iodine
42 mcg
47%
Zinc
2.7 mg
90%
Kids Essential Multivitamins
Glucose syrup, sugar, water, pectin, citric acid, sodium citrate, natural flavors, natural colors (annatto, turmeric and elderberry juice), coconut oil, and carnauba wax.
foundation
of your health
supports a thriving childhood with essential vitamins and minerals
supports optimal energy levels
supports a healthy heart & organs
develops strong, happy habits
at a young age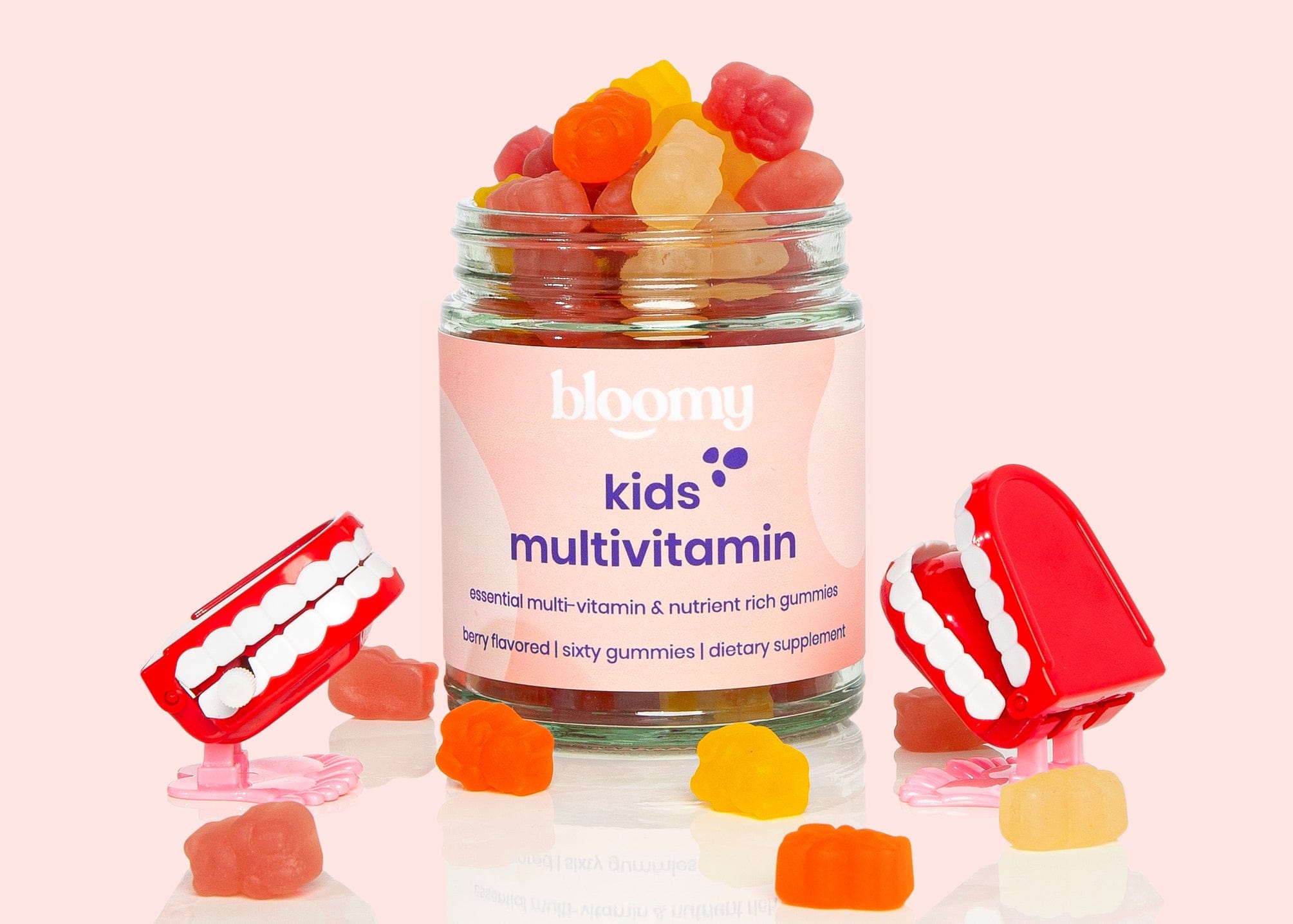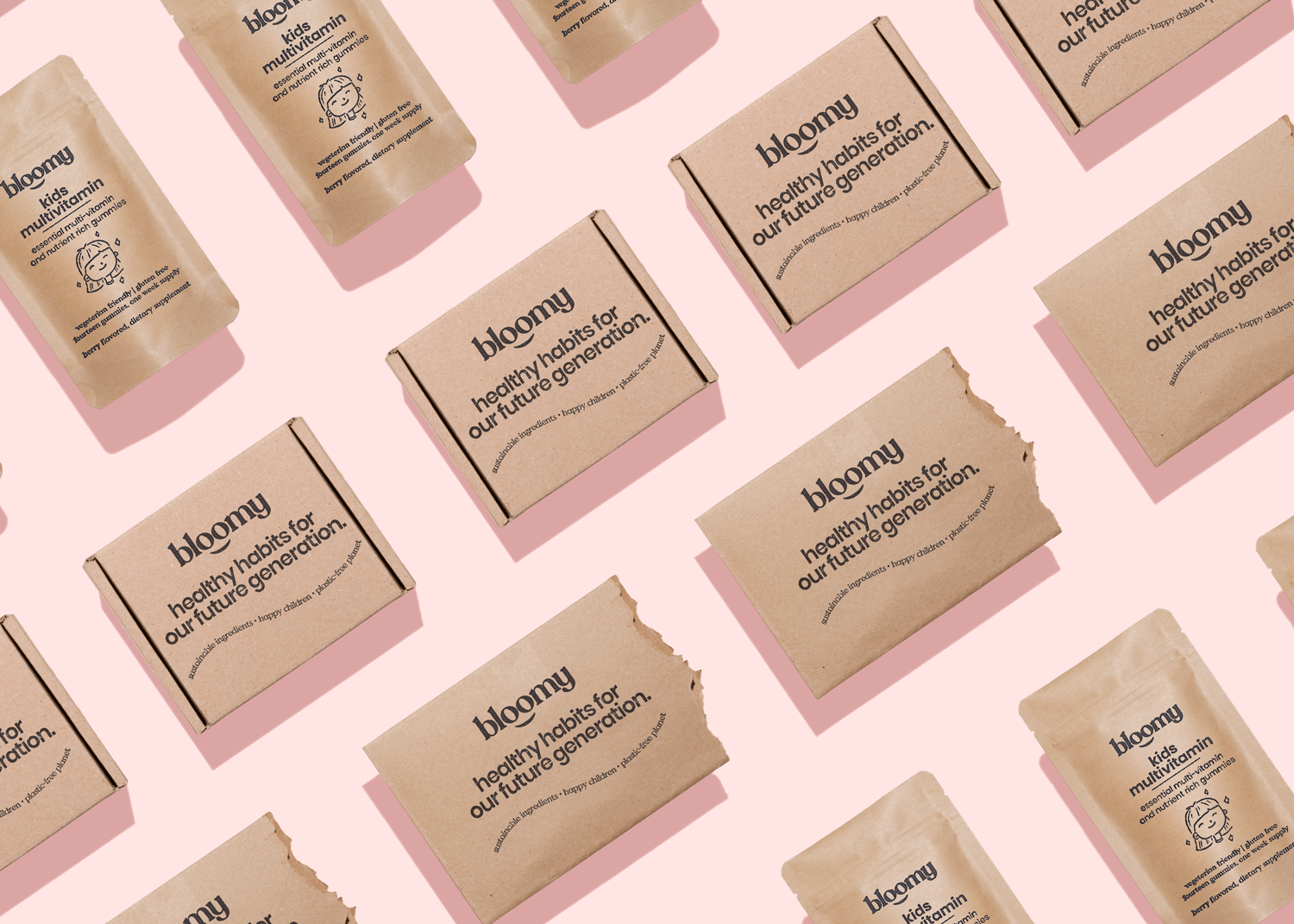 foundation
of our planet
100% plastic-free products,
packaging, and shipping
100% recycled, recyclable, or
home compostable materials
100% carbon offset shipping
100% support of our planet,
ecosystem and mother nature
frequently asked questions
What's the difference between Bloomy and other brands?
Great question! We are a passionate, parent owned and operated small business based out of San Diego, California. Our nimble and mighty team is passionate about our customers, your beautiful children and the products that we offer. At Bloomy, we've crafted the necessary vitamins your children need to support their fullest potential. Made with clean, sustainable ingredients you can count on.

Why Bloomy:
👶 Essential Vitamins & Nutrients
💚 Vegetarian and Vegan Formulas
🌾 Gluten Free & Major Allergen Free Formulas
❌ No Gelatin, Soy, Dairy, or Preservatives
🍓 Organic & non-GMO Formulas
😋 Delicious & Free of Processed Sugars
🌱 100% Plastic Free & Carbon Neutral
Where are your gummies made?
Our gummies are proudly made in the United States with trusted suppliers that are certified by the NSF, GMP, and FDA Registered, the golden standard of supplement production. Our raw materials are ethically and sustainably sourced and created in California.
Are your products vegetarian and vegan friendly?
We stand by our vegetarian and plant based community! Our full product line includes vegetarian and vegan friendly formulas.
Are bloomy vitamins suitable for kids allergic to gluten or tree nuts?
Our product line is major allergen, tree nut (with the exception of coconut oil), and gluten free (with the exception of organic probiotics).
Are bloomy vitamins dairy free?
All of our products are dairy, gelatin, and soy free!
Are bloomy vitamins kosher?
Yes! Our full product line is kosher.
Are you actually 100% plastic-free?
Yes! Every single material we use is 100% plastic free. From our glass jars to our shipping boxes, our full product line is either 100% recycled and reused material, recyclable, or 100% home compostable.
How are you carbon neutral?
We offset carbon emissions from every order by donating a small portion of the shipping cost to EcoCart, an environmental technology company that helps reduce the effects of climate change by funding renewable energy, forestry, or clean water projects. These projects reduce emissions of carbon dioxide or other greenhouse gases in order to compensate for emissions made elsewhere, like the emissions created from ordering something online.